Vaginas.
Practically half of the world's population have female reproductive systems. So why are products for women relegated to TV commercials full of pastel colors and blue liquid periods. That's why we're so excited to intro you to a brand that's striving to change our perceptions about female health as well as the products we use for it.
Queen V is a from-women, for-women brand changing how we talk about vaginal health.
All of the products in the line are rooted in aromatherapy and natural ingredients wrapped in neon bright packaging. Even the promos are different - women of all sizes and ethnicities in their bright bathrooms mingling together with their products. There's no shame and no secrecy in having a vagina - the world as it should be.
The formulations of Queen V products work to maintain the balance of pH. A healthy vagina is slightly acidic while traditional bubble baths and body washes are more basic, which can lead to a disruption in homeostasis and lead to an imbalance of bacteria aka infections. Whether you are just looking for a cleansing bar or safety from the pain of menstrual cramps, the ingredients are just as beneficial as they are luxurious. See our top choices for products from the line, below.
As with any new products or questionable body concerns, consult your physician before taking things into your own hands.
Luckily, Queen V products are both gynecologist and dermatologist approved.
Maintain
This collection focuses on balancing vaginal pH and using gentle products for an optimal V zone.
Many physicians agree that a balanced microbiome and intestinal health can lead to healthier skin, hair and nails. The positive results don't stop there - certain types of bacteria have been shown to optimize the vaginal environment to prevent infections.
That's where DD comes in. These probiotics are meant to be taken orally once a day and, in addition to containing millions of healthy gut bacteria, is boasts garlic bulb extract and grapefruit seed as it's vagina-friendly ingredients. The addition of turmeric adds an anti-inflammatory element for easy digestion.
Where has this been all our lives?!
Most of the people on the planet are women and most of those women get their periods. That sometimes means stress, bad cramping, and mood swings - symptoms that aren't always abated with mere ibuprofen.
Korean scientists published a study in 2011 where they found that aromatherapy massage reduced menstrual pain and anxiety when compared to a placebo. Royal Pain is a topical spray that contains premium essential oils (Italian Lavender Oil, Sweet Marjoram Oil, and Organic Clary Sage Oil) to help soothe physical and emotional symptoms of menstruation when spritzed and massaged onto the affected area.
Honestly, there's a reason why baby wipes are for babies. It's time to upgrade your swipe game with a touch of the botanicals and humor.
Think Vitamin E and coconut oil to moisturize, aloe to soothe, and evening primrose oil to refresh. You're The **it wipes provide hydration while cleansing sensitive lady bits. These wipes also contain gentle acids to regulate the pH in and around the vagina. Through a packet or two of these flushable wipes in your bag and be ready for anything.
ENJOY
Now that you've taken care of yourself, it's time to really take care of yourself.
Being a woman these days can be a packed schedule. Our devices are pulling at all of our attentions, we're juggling who we give our time to, and, as women, we're tryin to do it all. Sometimes the result is passion (or even the energy) for sex may have declined.
If that sounds like you, you might want to grab a bottle of Livin' Libido Loca, the female libido booster. The power player is beet juice powder, which helps to increase blood circulation and decrease vaginal dryness. Pine bark extracts, amino acids, and vitamin B bolster the effects of the beet juice powder for a smooth operator experience.
For those vaginas that need a little help in the lubrication department, we'd like to introduce you to P.S. I Lube You.
This lube is aloe-based to help keep you cool, calm, and collected while things are heating up. It claims to "protect, hydrate, and rejuvenate your Queen V". That's why aloe is accompanied with oat, help, flax, and green tea extracts. Slip and slide and enjoy the ride.
Hand's up if you've taken a bath and then spent the next hour releasing bath water from your vagina. It's pretty much a cave and things get in there and that's okay. However, it might be time to start thinking what is in the bath water that took a detour into your lady cave.
Pop The Bubbly is a pH balanced bubble bath that's better for your whole body, inside and out (though we strongly recommend not ingesting it). Green tea, mango and chamomile extracts are fused with essential oils, sea salt, and aloe, which makes it not only an effective bubble bath but a luxurious one at that.
HEAL
Whether you're chafing, itching, or in pain, these natural products can help you troubleshoot.
If bath bombs are more your style than grab a three-pack of these bad girls. These are all-natural and fragrance-free that are meant to soothe the vagina and the body in addition to period pain when you're menstruating (not only cramps but those pesky body aches).
The sweet orange and rosemary oil helps make Bombshell one of the most relaxing bathing accessories out there. Coupled with coconut oil and shea butter, all you have to do is lay back and let your skin transform without any work from you.
There's no shame in an itchy vagina. There's also no reason to tolerate an itchiness on any part of your body. If you're looking for a natural product to help you with the itch, grab Itch Don't Kill My Vibe.
Tea tree and coconut essential oils ease irritation and soothe the skin. Eucalyptus oil helps refresh while coconut oil and honey nectar help moisturize and lessen any inflammation. The recommended usage of this is external only, the vagina or anywhere else you might have an irritating itch.
If you suspect you have an infection, talk to your physician.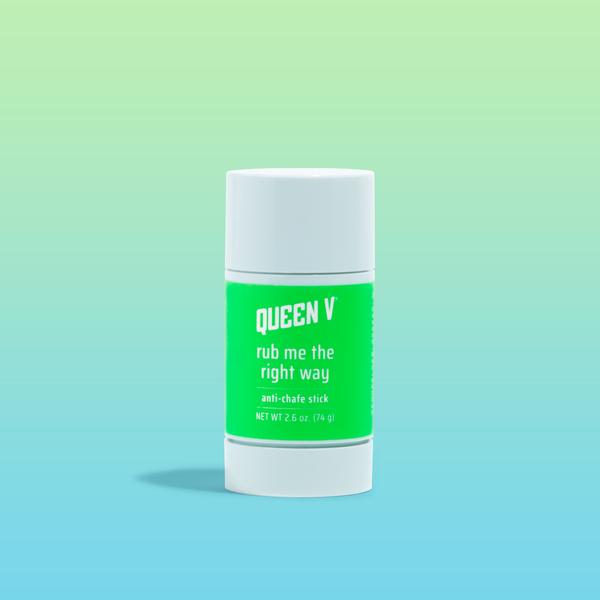 Well it's officially summer in North America. That means anyone without a thigh gap (hello! most of us) are dealing with some crotch friction that might be leading to chafing.
Rub Me The Right Way is meant to hydrate the skin and provide a buffer to that friction. This is achieved with the primary ingredients being shea butter and lime oil. The balm lives in a screw-up tube for easy application and storing. It takes up as much space in your makeup back as a stick of deodorant.
If you aren't sure about diving into a full routine with Queen V (it's worth it, we promise) then grab the Essentials Kit for a test drive.