Booty Mask
I was strolling through the beauty aisles of my local Target when I stopped by a shelf full of sheet masks. I love trying new sheets masks for a few reasons. For one, it's not a big investment in time or money. The second is that the results are not as permanent as my day-to-day skincare routine - if something doesn't work out, I'm not super bummed. As I was looking through all the face sheet masks there was one package from Yes To that caught my eye.
I CAME FACE TO POUCH WITH AN ASS MASK.
Really? We're going there? Now it seems there's a sheet mask for every body part. We started with face and feet and now there are booty masks. What's even more cheeky 😉 is that these sheet masks come in pretty shapes and shades. That makes the masks selfie level of cute. The booty mask I got was no exception but would it work?
I have long been a fan of the firming and moisturizing Bum Bum Cream and I was interested to see if I could get the same level of results in a more passive way (rather than vigorously rubbing in a cream). Could I just slap on some sheet masks and go about my doing my laundry?

THE ANSWER: KINDA



The product boasts using 95% natural ingredients infused into the 100% cotton sheets. The "mask" is actually two separate pieces of damp fabric in the shape of hearts with "ROCK" and "ME" printed across them. Already I was skeptical - yes, these might be cute and totally Instagrammable but would they work?


The active ingredients infusing these sheet masks are a trifecta of caffeine, coffee, and guarana to increase circulation and increase firmness. Aloe juice soothes the skin to reduce any kind of reaction while coconut oil moisturizes the area. I will tell you right now that I really disliked the shape of these masks. Yes, they are cute for photos but they do not give you an even or comfortable application.

While some sheet masks are notorious for dripping product, these applied to my booty and stuck on there without any excess dripping. I'm sure you can stick these on and go about your day - albeit pantless and slightly slower moving. The instructions say to remove the masks after 10 minutes and rub in the left over product into the skin.
I CHOSE TO LAY DOWN.
After a 30 minute nap, I woke up and there was no excess product to rub anywhere. The sheets had dried up and just fell off my booty when I sat up. Oops.

The verdict? If you want to get a great selfie or feel extra about your self-care routine then grab this booty sheet mask. I didn't notice a significant amount of lift or firming because it was the only time I used the masks. With repeated use, you may see greater results. I think I'll pass on the Booty-ful Paper Mask and stick to my current routine.


Whether you try the mask, take a selfie, be bold - let me know your thoughts!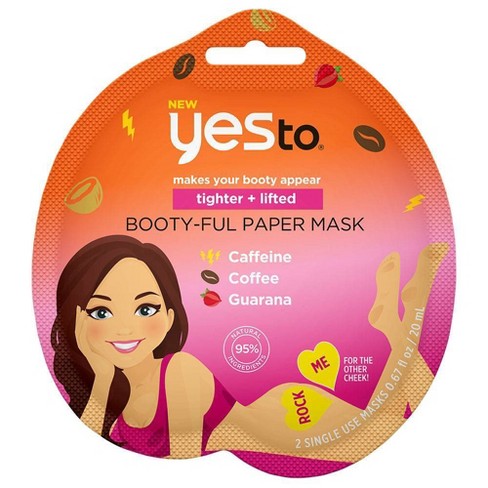 For tightening and lifting
Sad to say I didn't end up looking like this:
**This post contains affiliate links and I will be compensated if you make a purchase after clicking on my links.