#Lipstories: First Class
If you've visited a Sephora lately you may have noticed the wall of colorful lipsticks from the brand's #Lipstories collection. Each bullet is beautifully decorated with an image that is meant to illicit am emotion related to that specific shade. The packaging is very little plastic and mostly durable paper, making it a sustainable alternative to many lipsticks on the market.
A #Lipstories lipstick will be either matte, metallic, or creamy and we will be testing out a new one every week. Rankings will be given based on wearability, ease of application, and overall feel on the lips. Tune in every week to see our results!
This week I returned to my comfort zone and luckily I live in a zone of neons.
This bright orange red is the perfect lip for almost every skin tone (though neutral and warm undertones will feel the most complimented). First Class is the perfect hue to wear on its own without a lipliner or primer. The formula itself is matte but feels like a cream on the lips - this is the thing that I've noticed about the matte #Lipstories, they have nailed the formulation.
If you're nervous about color, I would recommend a thin swipe of this shade diluted with lip balm or gloss.
Since this shade is very dramatic I would recommend leaving the rest of the face very natural - great complexion, soft brows, lots of lashes, and highlighter. You can pat a finger over your lips to transfer a slight amount of the lipstick to your cheeks for a monochromatic and subtle blush look.
This shade is flexible.
You can line the lips in a red lip liner to get a more red hue - keeping the inside of the lips the light orange so that lips appear to have an ombre effect. You can also fill in the lip with concealer or light nude lip liner so that the bright orange looks more like a muted tangerine. The moral of the story is that this shade is fun - play around with it and see what look you can come up with. You won't be disappointed in the cost or the quality.
Check out my breakdown of the product below.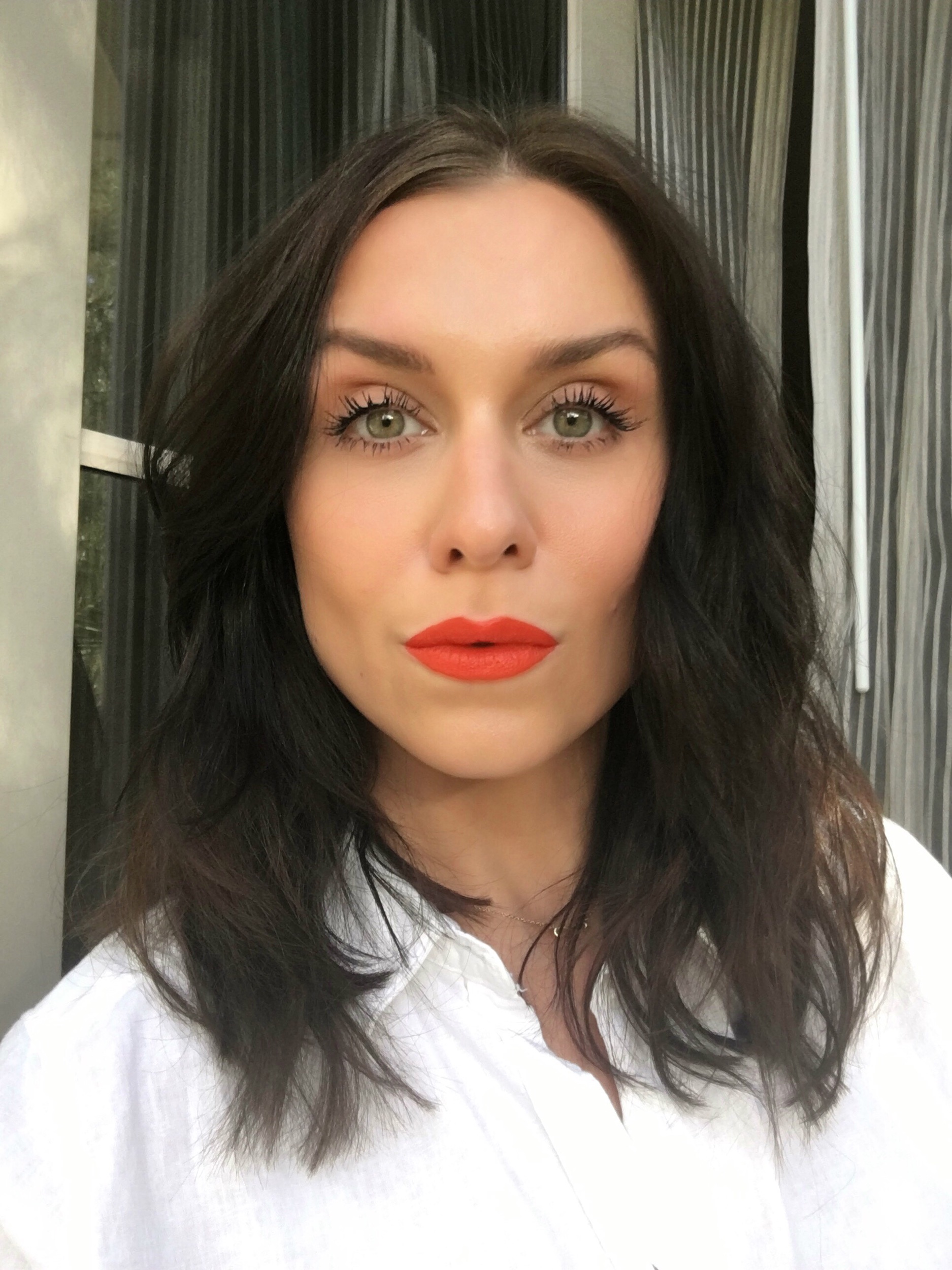 Color: Bright orange-red
Finish: Matte
Packaging: Airplane seats
Wearability: 4/5
Application: 3/5
Overall Feel: 4/5