Best Foundations for Sensitive Skin
Welcome back to your foundation manual!
We have now done an introduction to foundations as well as posts for our oily skinned brothers and sisters and those with dry skin. Let's take some time to focus on those of us that have sensitive skin. More people have sensitive skin than one would think and, as most things, sensitivity levels vary from person to person, season to season.
Many of the cosmetics on the market contain components that irritate the skin and can cause to reactions such as break outs, drying, redness, or full blown allergy attacks. Some common perpetrators are fragrance, alcohol, parabens, and sulfates. While you can go completely "clean beauty" to avoid triggering skin irritation, you don't necessarily have to. This is especially important since most natural brands do not have the engineering to create a fully color inclusive range yet.
In the meantime, there are some mainstream brands and products that everyone can use, especially those with sensitive skin.
Have you tried these products or would you like to have your favorite included in the list? Let us know in the comments below.
When the beauty blender came out it innovated the makeup sponge industry forever. Okay, we exaggerate but getting the perfect complexion became attainable for every person regardless of experience.
The brand has now innovated once again with its Bounce™ Liquid Whip Long Wear. The unique packaging allows you to dispense the perfect amount of foundation into the well for a no mess application. The silky formula contains hyaluronic acid to hydrate your skin while providing matte coverage.
This formula is also free of the majority of irritants, fragrance, and chemicals that can lead to skin stressors. Even those without sensitivity will find their skin looking better after they take the foundation off.
Speaking of clean products, Lawless is a brand that is bringing clean beauty into the chic space. The brand takes it a step further by increasing its "clean factor" by evaluating its impact on animals and the earth in addition to your skin and health.
Woke Up Like This Flawless Finish Foundation gives a highly pigmented, natural finish without any of the fillers commonly found in color cosmetics. The formula contains antioxidants and hydrating ingredients but the product's exclusion list is much greater than what's included. Read: out with all the bad and in with the best of the good.
So far the products on this list have consisted of full coverage foundations that add pigment and antioxidants but what about those with sensitive skin who also need hardcore hydration?
Complexion Rescue™ Tinted Moisturizer from Bare Minerals is the best of all worlds. This hydrating formula gives tinted coverage (think BB or CC) in a cooling gel. Whether you have naturally sensitive skin or are at the start of your relationship with retinol, this product will soothe while perfecting your complexion. The SPF 30 is an added bonus.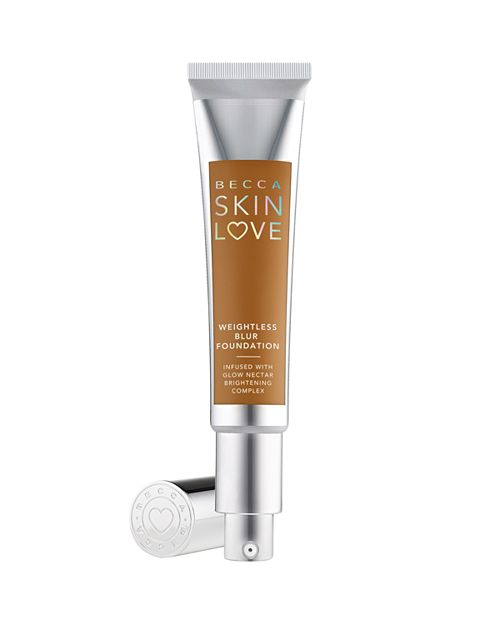 BECCA has always been available to give us a glowing and soft filtered skin. That's why the Skin Love Weightless Blur Foundation is one of the best skin perfectos on the market.
This is not only a medium coverage foundation that can be built up to a full velvet finish. The formula contains the brand's Glow Nectar Brightening Complex, a serum consisting of botanical and marine extracts that hydrate, brighten, and regenerate the skin. The good for you ingredient list is so long that we would have to give it its own post. Hey, we just might since you know we love a two-in-one.
There's something pretty special about a foundation that you can get crafty with. A few drops in your moisturizer to tint it out, a few drops on your face for a buildable coverage, or a few drops from the 56 shade range to make a unique color blend just for you.
We're obviously talking about the incredible Even Better Makeup from Clinique. The brand's blend of Vitamin C and antioxidants help regenerate the skin to fight signs of hyperpigmentation and sun damage. The SPF 15 will help to protect your skin from future damage. However, we should note that 15 isn't the strongest shield so apply additional SPF underneath.
Who wouldn't want to save the world's wildlife while looking flawless. Those with signs of wrinkling or fine lines will find the light reflecting, blurred effect of Future Skin to give them that JLo glow.
Chantecaille uses only the highest quality ingredients while tossing out the common irritants and pore cloggers that can be found in other foundations (think: phthalates, sulphates, detergents, petrolatum, and GMOs, to name a few). Additionally, the brand has long been a philanthropy project to protect wildlife and their homes from extinction. Shop those products here.
Have a favorite foundation for your sensitive skin that wasn't featured here?
Comment below!