Best Foundations for Dry Skin
Welcome back to your foundation manual!
We have now done an introduction to foundations as well as given you our recommendations for our oily skinned brothers and sisters. Now it's time for the dry skinned folks to get some love.
Whether your skin dries out in the colder months of the year, in different climates, or is naturally on the parched side, these are the foundations that will help you avoid that dreaded skin patch situation (you know what we mean). There is something in here for everyone and everyone's everyone. While we cannot stress enough that you may want to invest in a rich and moisturizing skincare routine that will give you the perfect canvas for your foundation, these products can also help with any flaking or dryness.
Bonus step: check out our guide to illuminating primers for an extra boost.
Is there anything we forgot or missed the mark on? Let us know. Otherwise, we hope you enjoy the series!
Algae and sea water add minerals to give the Pure Radiant Tinted Moisturizer from NARS a formula that helps heal and protect the skin. Coupled with the SPF in this formula, you'll be protected from UV rays. We also love that this product is one of the most skin tone inclusive of its type.
This tinted moisturizer has sheer coverage and drenches dry skin without covering the natural coloring. Want your freckles to shine through? This product will allow that to happen while fighting hyperpigmentation and adding a healthy glow to your complexion.
Model turned makeup boss lady Josie Maran has won the natural game with Vibrancy Argan Oil Foundation. The primary active ingredient is obviously argan oil, which contains antioxidants, vitamin E, and essential fatty acids to moisturize through dryness and promote a bouncy and glowy skin.
Additionally, argan is crossbred with blueberry to produce an extract that help heal redness and irritation. For those with acne flare ups or living in cold climates, this will be your savior. Ginger root helps stimulate the skin and aloe soothes any angry texture. Did we mention this formula is totally natural? Yeah.
For when you need to treat yoself with a luxury foundation with a light coverage, look no further than Vitalumière Aqua from Chanel. The brand that is responsible for tweed jackets and Parisian chic nails it with this foundation, which is completely in line with the effortlessness of French female beauty.
This product provides breathable coverage that you can build to your desired opacity. It's water based and contains hyaluronic acid to keep skin moisturized and help with any fine lines in addition to dryness. Smaller than a smartphone and easy to apply, you can throw this foundation in your bag and apply with your fingers for the perfect glow.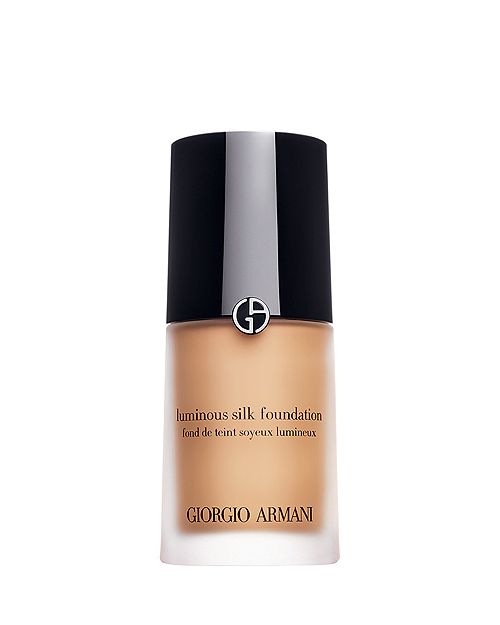 Every pro makeup artist's go-to for foundation is from Giorgio Armani. We're talking about Luminous Silk Foundation, of course. Celebrities love this product for their red carpets and we recommend it for any of your special occasions.
This is the second "treat yoself" in this post. The difference is that Luminous Silk starts at a medium coverage that can be layered into a full. Micro–fil™ technology contains diffused pigments to give you an airbrushed and luminous look while adding moisturize. The results? Our dry skinned baes get moisture and a diffusion of their fine lines.
If you have allergies or sensitivity to most face products, grab you some BarePRO™ Performance Wear Liquid Foundation. This formula is one of the most gentle on the market while also giving a highly pigmented, matte coverage. Their list of exclusions are almost as long as their list of ingredients.
Matte? Dry skin doesn't look good with matte coverage! MYTH. This water-based formula buffs into the skin softly without clinging to any dryness while papaya enzyme gently exfoliates and dead skin, allowing for a smoother feel after you take your makeup off. Additionally, the Mineral Lock technology makes your base stay for hours without drying out or budging.
While we love this foundation for all ages, we especially adore it for those folks with signs of aging. Charlotte Tilbury's Magic Foundation gives highly pigmented coverage that feel light on the skin and doesn't settle into lines. Hear that? No more creasing!
An added bonus is that this formula contains the same active ingredients as Charlotte's Magic Cream to combat skin concerns like texture and irritation. Hylauronic acid provides moisture and vitamin C fights free radicals and pollutants. The added bonus of mushroom extract allows this foundation to heal any age spots caused by sun damage, with continued use.
Have a favorite foundation for your dry skin that wasn't featured here?
Comment below!