Smokey Eye Favorites
My latest tutorial is all about mastering a makeup essential: the smokey eye. I show you how to do a quick 5 minute smokey eye that you can do while at your desk, going from day to night, or running out the door to an event.
You can even do a smokey eye with pastels or light colors. The idea of this look is that your eye makeup looks like smoke going up from a source. Blending is key for this look. These are some of my favorite products, including brushes, to get you that smokey look.
You can also find my tutorial at the bottom of this post. Like, subscribe, and comment for more content from Juliya Beauty.
This creamy eyeshadow has pearl fragments in it to give your makeup a beautiful dimension. The formula also causes it to be super easy to buff and work onto your lid. Put some powder on top or wear it as is and you are good to go with your smoke. Beware: work quickly because once this formula is set, it's set.
Chanel makes my favorite pots of cream shadow ever. EVER. This is another formula that will give you the perfect smudge and smoke but it sets quickly so buffbuffbuff. I've also used this as a gel liner on an angled brush or a brow pomade in a pinch. Chanel has my heart.
The OG brand of makeup provides the most potent and colorful eyeshadows out there. If you are looking for the blackest black to match your soul, go for "Carbon" - a matte black that will allow you to kill your enemies with one look. Watch my tutorial though or risk looking like a panda.
If you aren't ready to take the plunge into a matte smokey eye just yet, grab this loose eyeshadow in the shade "Obsidian". It's so multidimensional and a little goes a long way. I also love that this brand was started by sisters who are committed to a badass alternative to natural cosmetics and their often "granola" image. Beware: you will seduce everyone just by existing.
This little known brand has produced the most decadent black liner I have has the pleasure of using. It's blacker than black and full of Vitamin E and jojoba oil to make it smooth and smudgeable. The kicker? It doesn't run or disappear once it sets. This is my go-to for tightlining.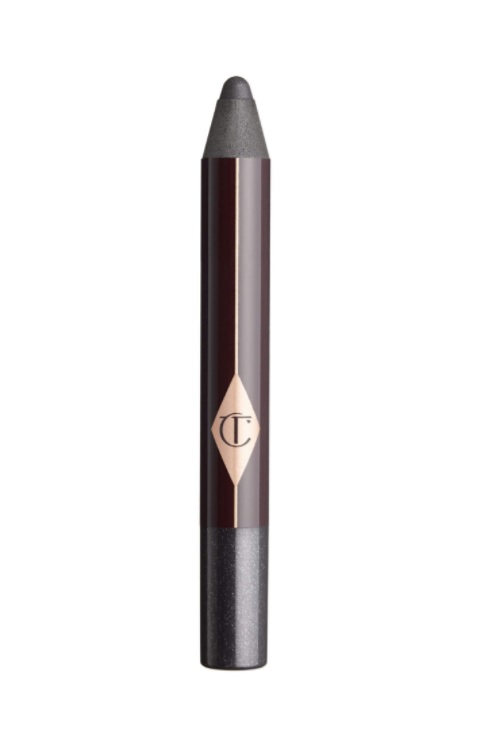 Okay so technically this is an eyeshadow pencil, which you can totally use to lay down your base for your smokey eye. I, however, love to use a chunky pencil as an eyeliner because it gives me the perfectly imperfect smudge line on my lower lash line and an ease stroke on my upper lashline. Then you just blend it all in - supes easy!
But seriously, how can I just choose one mascara to love? I CAN'T. When it comes to adding drama to a smokey eye, though, this is my default. I always reach for this product because of it's black glossy formula and it's ability to transition from a lengthening mascara to a volumizing one with the turn of a crank.
This may be my favorite mascara of all time. It doesn't flake or smudge and it is a gentle brush and formula that you can use for daytime makeup or layer it on over and over for a dramatic, no clump evening look. Mascara newbies or foes? This one's for you.
My love for Tom Ford is not a secret. every product he puts out has an easy luxury to it that proves you should never underestimate a person that looks that chic. This brush is no exception. Not only does it blend out the perfect smokey eye with its natural hair but it is one of the easiest brushes to clean, despite it's white bristles.
Have you tried Luxie? This brand is onto something with their high quality cruelty free brushes (#notanad). This tiny brush packs a big punch when I need it to smudge my eyeliner or line those tricky small parts of my eyes with shadow. Putting highlighter on the inner corners or Cupid's bow? This ones for you, too.
What are your fave products for a smokey eye? DM me or leave a comment below. Don't forget to check out my tutorial on how to get the perfect smoke in 5 minutes.
j